Special Events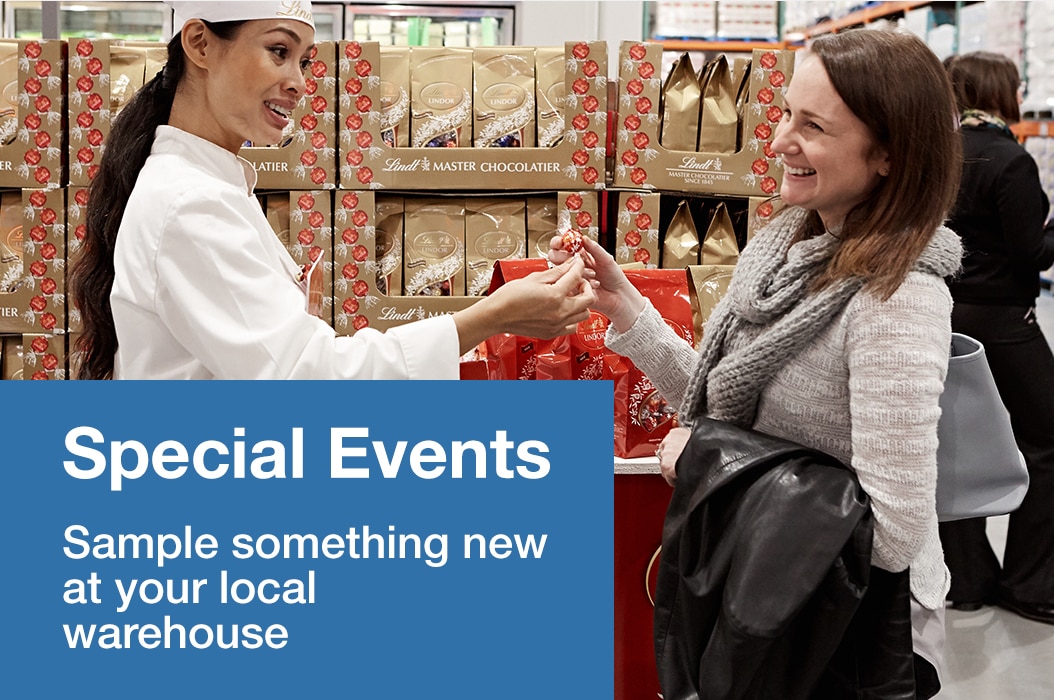 Costco Events Calendar
Costco regularly holds roadshows and events for our members throughout the year. Such events can range from our member favourite seafood roadshows around holiday periods, or skin care demonstrations throughout the year. These events are a great opportunity for product experts to showcase new items and introduces one-off items to our members that we will not typically carry all year round.
We also regularly hold product demonstrations of our regular warehouse merchandise to help our members decide whether they want to purchase new items. What's more, it adds to the "Treasure Hunt" atmosphere we hope to create with every visit to the warehouse.
Please note that roadshows are subject to change including cancellation. Please contact your local warehouse should you wish to confirm an event.
* Dates and events are subject to changes.
Docklands, VIC






Amargan Hair Care : 15th Jan – 26th Jan 2020
LauraStar Ironing : 28th Jan – 2nd Feb 2020
Apply now
Auburn, NSW






Infinite Aloe Skin Care : 3rd Jan – 20th Jan 2020
Woll Cookware : 22nd Jan – 2nd Feb 2020
FryAir : 29th Jan – 9th Feb 2020
Gospel Pianos : 11th Feb – 23rd Feb 2020
Visit the Warehouse
Canberra, ACT








Infinite Aloe Skin Care : 22nd Jan – 3rd Feb 2020
Brazilian Cowhides : 5th Feb – 16th Feb 2020
Visit the Warehouse
Ringwood, VIC






Brazilian Cowhides : 15th Jan – 26th Jan 2020
Traeger BBQ Grills : 29th Jan – 9th Feb 2020
Ella Blinds : 12th Feb – 15th Feb 2020
Visit the Warehouse
Crossroads, NSW








Pure Living Aroma Shower : 15th Jan – 26th Jan 2020
LauraStar Ironing : 28th Jan – 2nd Feb 2020
Infinite Aloe Skin Care : 5th Feb – 17th Feb 2020
Visit the Warehouse
North Lakes, QLD








Adelaide, SA








Moorabbin, VIC








Traeger Grills : 15th Jan – 26th Jan 2020
Pure Living Aroma Shower : 5th Feb – 16th Feb 2020
Visit the Warehouse
Marsden Park, NSW








Epping,VIC








Ipswich,QLD