Optical
$50 OFF
Second Pair of Eyeglasses
Buy one complete pair of prescription eyeglasses and receive $50 off second pair of prescription glasses purchased at Costco Optical.
Current prescription required. Transaction must occur on the same day. Each pair of eyeglasses must be for the same individual.
Complete eyeglasses are considered new frame and lenses.
Offer valid only at your local Costco warehouse.
---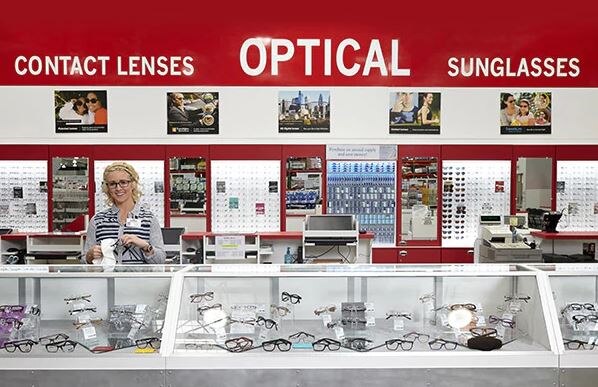 Costco Optical prides itself on having some of the most knowledgeable employees in the industry. Our staff consists of trained opticians that are well regarded in the optical industry. You will be confident that you are receiving the best possible care when visiting the Costco Optical department.
Our Optical departments also carry a wide range of contact lenses, brand-name designer frames and sunglasses and offer the latest technology in high-definition lenses.
Bring in your current prescription today, book an appointment with our optometrists at your nearest Costco Warehouse or fill in the form to the right.
Once you submit (by clicking the "Submit" button), a member of the team will contact you within 24 hours to confirm the availability of the appointment.
---
Lenses
---
Kirkland Signature™ HD Progressive Lenses
Experience High Definition Vision
Our Kirkland Signature HD progressive lenses use the latest in lens manufacturing technology to deliver high definition vision at any distance. With sharper vision in all conditions. Members purchasing Kirkland Signature HD lenses will receive an unprecedented degree of customisation. Included on all lenses is our anti-reflective treatment which provides superior scratch resistance, exceptional quality and gives each lens a cosmetically appealing look.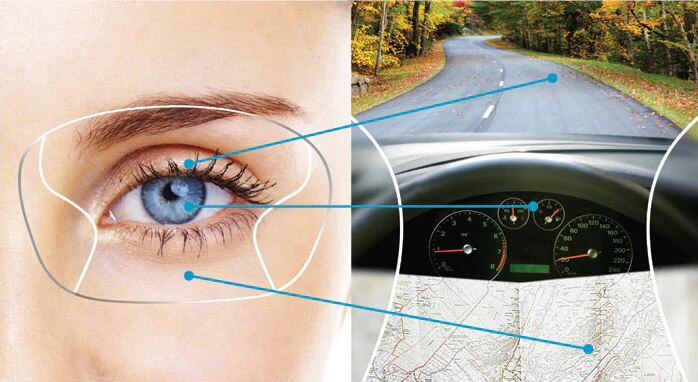 Kirkland Signature™ HD Progressive Lenses:
Latest manufacturing technology available delivers high definition vision at any distance
Includes Anti-Reflective Treatment
Custom made lens for your prescription and selection
Offers a larger reading area and less distortion than standard lenses
Quality and value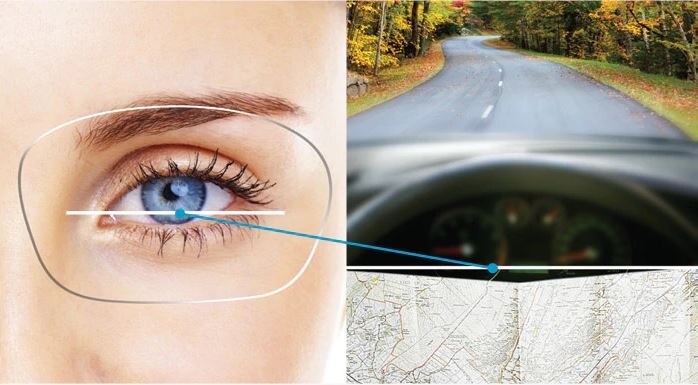 Bifocal Lenses:
Separating line
Provides near and distance vision
Single Vision Lenses:
Corrects for only one distance
---
Polarised Lenses
Enjoy the Sharpest Outside Vision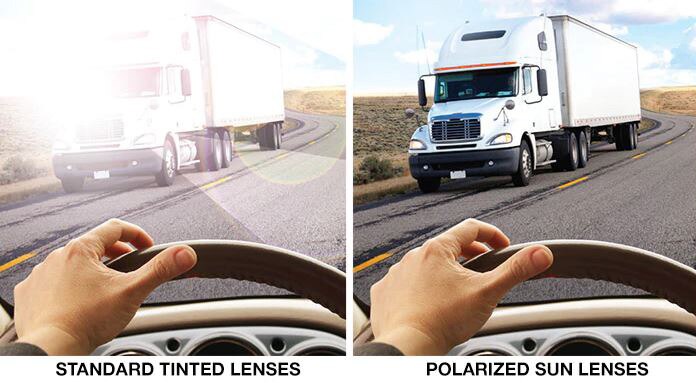 Protects against glare
Block 100% of UV rays
Are available with silver, gold or blue mirror coating at an additional cost
---
Transitions® Photochromic Lenses
See Life in the Best Light
Completely clear indoors, just the right amount of tint outdoors

Begin to darken instantly as soon as you step outdoors
Fastest fade back to clear indoors
Helps protect against harmful blue light from digital devices, screens and the sun
Helps reduce glare, eye fatigue and eye strain
Blocks 100% of UV rays
Available in single vision and Kirkland Signature™ HD Digital Progressive Lenses
Available in standard or blue light protection anti-reflective treatment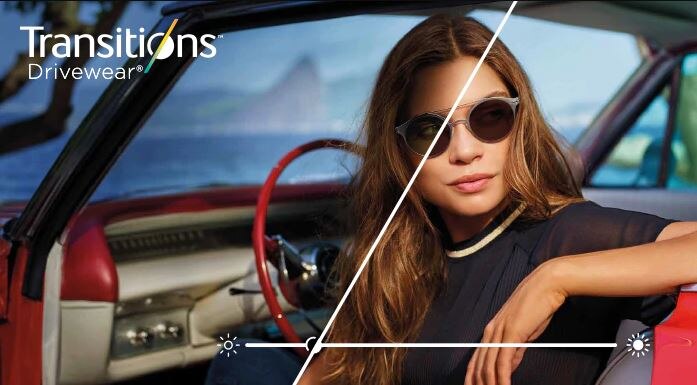 Continuously adapts to changing daylight conditions, reduces excess light and optimises colour contrast and is polarised to block blinding glare

Light or Overcast Conditions: The lenses are a green/yellow colour that provides high contrast and minimises glare.
Behind the windshield: The lenses activate to a copper colour, enhancing colour recognition and depth perception.
Bright Outdoor Light: The lenses activate to a dark red-brown, filtering excess light to provide maximum comfort.
---
Blue Anti-Reflective Treatment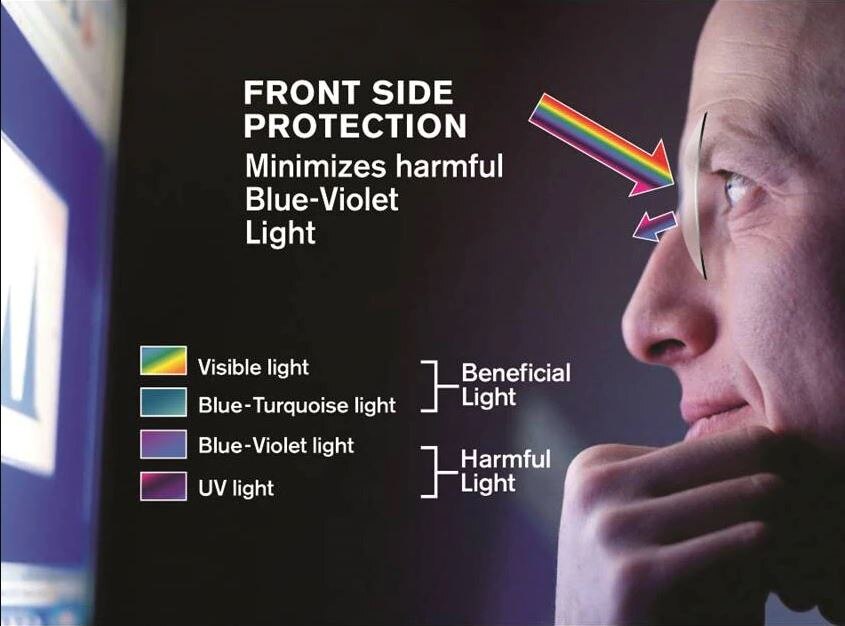 Harmful Blue Light Rays:

Disrupts the natural sleep cycle
Creates a haze reducing contrast and decreasing sharpness
May increase retinal damage from cumulative lifetime exposure

Solution:

Blue Light Filtering coating helps to selectively reduce the harmful portion of blue light while letting the beneficial blue light pass through.

Benefits of Blue Anti-Reflective Treatment:

Reduces accumulated potential damage to the eye
Reduces digital eye strain and symptoms associated with Computer Vision Syndrome
Allows beneficial blue light to pass through for increased clarity
Reduces glare and reflections
---
Anti-Reflective Treatment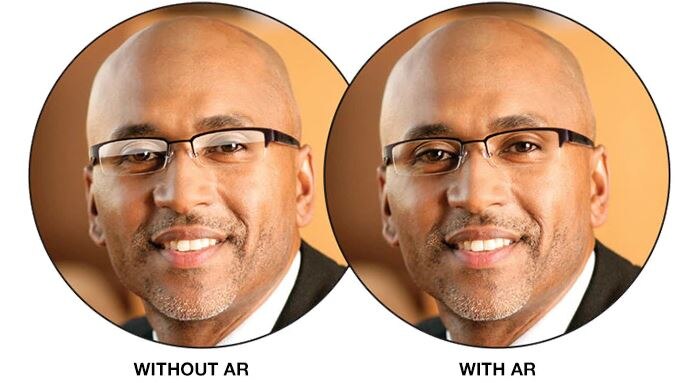 Sharpens visual performance
Reduces eye fatigue and reflections at night
Greatly reduces the reflections other people see on your glasses
Available in standard or blue light protection anti-reflective treatment
---
Multi-functional Lens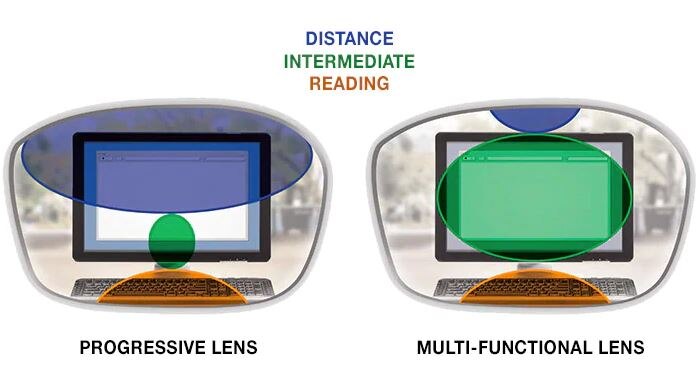 Larger intermediate reading area
Comfortable head posture while at the computer
Reduce symptoms of Computer Vision Syndrome, including eye strain, tired eyes and headaches